VEHICLE TRANSPORTATION SOFTWARE
A FASTER, MORE INTUITIVE PLATFORM
UDispatch is a business-to-business platform for today's auto shipping industry. We've built an intelligent, intuitive web and mobile application for shippers and carriers to efficiently connect with one other, providing the tools necessary to streamline every aspect of vehicle pickup and delivery.
Get Started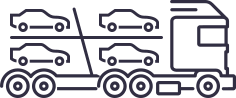 SOLVING LOGISTICS TOGETHER
UDispatch is engineered from top to bottom to increase your company's productivity and revenue.
Smart search engines and instant communication tools? Check.
Pre-filled eBOLs, electronic signatures, and immediate invoicing? Of course!
Seamless integration with your preferred accounting software and merchant accounts? You can count on it.
Our platform lets you focus on growing your business — with us growing with you — every step of the way.
Fully Loaded
+
Dozens of useful,
innovative features
Invoicing
just sec
Quicker billing,
faster pay
Notifications
+
Constantly stay informed
Uptime
.9%
Always on,
guaranteed
Digital Marketplace
UDispatch Platform Benefits
SHIPPERS/BROKERS
Total dispatch control
Quickly, effectively post dispatches, hire the best carriers, stay in constant communication via UDispatch platform
Simplified, organized task management, including one-click, pre-filled eBOLs
Secure accounting, merchant payment, and complete data storage backup
Intuitive dashboard displays all dispatch, invoicing, and financial stats over any time interval
CARRIERS
Total fleet and load management
Smart job search engines, faster request acceptance, increased productivity
Decode VIN, upload all inspection details, sign and send eBOL all from mobile app
Instant notifications, UDispatch Secure Chat, immediate invoicing upon delivery
Customizable dashboard tracks income, workflow, performance levels

THE UDISPATCH API
Full Integration, Fully Supported
1.Posting Dispatch
Access our API from your website or company software with one click, instantly exporting all vehicle data from your site to the UDispatch platform. We provide full technical support to your company's IT team.
2.Suggested Estimates and Price Calculator
Fully-integrated price calculator for your website. Automatically import charges from our platform, add your company fees, and customers will see the total amount due alongside payment options.
3.Accounting and Invoicing
UDispatch accounting software covers all aspects of sending and receiving secure invoices quickly, and easily syncs with your Quickbooks or Xero if preferred.
4.Merchant Accounts
Seamless third-party integration with your current provider.
YOUR ALL-IN-ONE SOLUTION
Increased Speed and Accuracy, Less Down Time, Zero Excuses.
1.No Surprises
Remove layers of uncertainty from your business model. Know the status of every job in real time, anticipate any potential "hiccups," and put fires out before they start.
2.No Frustrations
UDispatch makes sure each and every detail is meticulously catalogued, accessible, and securely archived.
3.No Nonsense
We love our product, and think you will too. That said, UDispatch has a fully refundable, "no questions asked" cancellation policy.